Why Freedom-chair Lightweight Folding Electric Wheelchairs are Popular in England?
Views:263 Author:Site Editor Publish Time: 2019-10-08 Origin:Site
The robust growth and technological progression have led to the development of hundreds of different gadgets and devices for the ease and convenience of us humans. One of such incredible motor devices is the lightweight electric folding wheelchair lithium battery, which is perfect for almost everyone.
What is a freedom wheelchair?
Here is a little overview of what an electric folding wheelchair lithium battery is. The electric folding wheelchair specifically designed for the convenience of the users is available in a variety of distinctive designs. Unlike the manual wheelchairs, the freedom-chair is a lot easier to use. The classic model, along with the powerful brush-less motors used in this electric folding wheelchair lithium battery, allows it to run continually for a longer period without requiring any high maintenance all the time.

Not only this, the wheelchair is easy to adjust and appropriate for an active and healthy lifestyle. This wheelchair is perfect for everyone. No matter you are disabled, elderly or are looking for temporary Medicare, a lightweight freedom wheelchair is most suitable for you.
Why are these wheelchairs popular in England?
Because of its wide and distinctive use, these wheelchairs are highly used in England. Since the lightweight electric folding wheelchair lithium battery is suitable for elderly, young ones, Medicare and disabled, therefore, it is widely used all over the country. There are numerous models, all of which are designed with inimitable features and characteristics. If you are looking for a wheelchair which folds conveniently without needing to take out the parts and remove any devices, then the MTIP model is perfect for you. Since you'll not need any parts to be removed, therefore folding this wheelchair is quite simple and easy. Moreover, it is also suitable for people who like making lateral movements.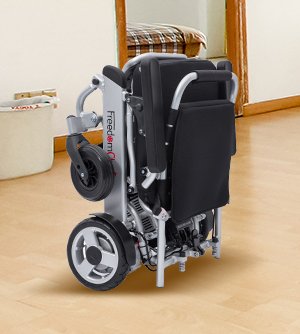 Another reason why this professional electric wheelchair is ideal for people in England and is used most widely is that it is perfect for both indoor and outdoor environment. Amazing, right?

The freedom electric folding wheelchair lithium battery is quite lightweight. Therefore, it is also really easy to adjust. Anyone who wishes to engage in an active lifestyle can use this wheelchair. A freedom wheelchair is also perfect for people who love sports. Yes, sports!!! Majority of people might think that disabled people can' t involve in sports, isn' t it? Well, with this amazing freedom wheelchair, you can also enjoy a healthy and sporty lifestyle.
What makes this wheelchair different?
There are tons of professional electric wheelchair manufacturers, but you' ll only find a few who can design a unique wheelchair suitable for everyone. If you think why this wheelchair is most widely used in England and preferred a lot than it is mainly because of one big reason. The plus point of the chair is that it comes with height variations, making it perfect for average as well as heightened individuals. Not only this, it is a larger power chair which has air-filled back wheels and a sturdy motor. These features distinguish the wheelchair and make it different from the ordinary ones.
So, if you are looking for a perfectly designed wheelchair than opt for these Freedom lightweight electric folding wheelchair lithium battery. Trust me; you' ll love them for sure.