Where to Buy Easy Control Electric Wheelchair
Views:264 Author:Site Editor Publish Time: 2019-07-05 Origin:Site
For the people who are disabled and can' t walk on their feet, it sometimes becomes challenging for them to operate the manual wheelchair. This problem gets dangerous for older users who can' t manage their wheelchair on their own. So, to avoid the problem, people prefer using an electric wheelchair. It is the best option for older people so they can travel around without any hassle.
The electric wheelchair is easy to operate, and if you don' t like to use your arms, this is the best solution for you. The electric wheelchair can be easily controlled and are very comfortable.
There are different types of wheelchair available in the market. However; due to multiple options, it can be difficult for the users out there to select a specific wheelchair.
A Chinese company freedom chair is trendy in the production of an electric wheelchair. Freedom chair wheelchairs are equipped with a brushless motor that ensures the quality and efficiency of the product. Freedom chair has passed its products through certification and testing purposes, so the quality of products can be guaranteed. The company used aluminium in their electric wheelchair, and that is why the wheelchairs don' t have corrosion or rust problem, you don' t have to worry about the strength of the structure as well.
Freedom chair wheelchair can be easily controlled. They are equipped with a joystick so you can easily control electric wheelchair while travelling. Another point that the company has added in their product is that they have synced their electric wheelchair with a smartphone application. You can easily control electric wheelchair with the help of the company' s app on your smartphone. This application helps you in moving the wheelchair in your desired direction without worrying too much about controlling the direction on a manual basis.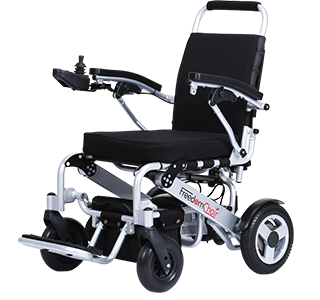 You would undoubtedly want your wheelchair to carry from one place to another, especially if you are travelling to another city or country. So, to increase the comfort level of their customers. Freedom chair wheelchair has added an easily foldable technology in their products. The electric wheelchair made by freedom chair is very lightweight, which makes them very more comfortable to be folded. I' ve noted that these wheelchairs by freedom chair can be folded within 1 second and you can fold it in the small size. These wheelchairs are very convenient for travelling and are portable. You can fold the electric wheelchair and put it in the trunk or even on a co-pilot' s seat if you are flying yourself. Freedom chair has ensured that they are focused on the long battery life of the wheelchair, so if you want to travel for a longer distance on your wheelchair, you don' t have to worry about it' s charging. So, for that purpose, this brand' s electric wheelchair is equipped with lithium battery in multiple groups. This process of adding numerous lithium batteries ensures that the wheelchair is charged for a comparatively longer duration.
Freedom chair is focused on ensuring high satisfaction for their customers. Their experts have specially designed the motor of their wheelchairs after six years of study. Their wheelchair motor has a comparatively longer life and has low heat loss. The engine of their wheelchairs has strong torque and high efficiency in such a way that they can save 20 to 60% of your electric energy when they are being charged.