What Do We Need to Know If We Want to Buy a Safe and portable electric wheelchair
Views:155 Author:Site Editor Publish Time: 2019-08-12 Origin:Site
The demand for Electronic Powered Wheelchairs is increasing day by day because of its diverse features. These wheelchairs can deal with rough terrain due to which people can use them outdoors. They have customizable options which make them convenient to use. The best feature of these wheelchairs is that it has improved mobility.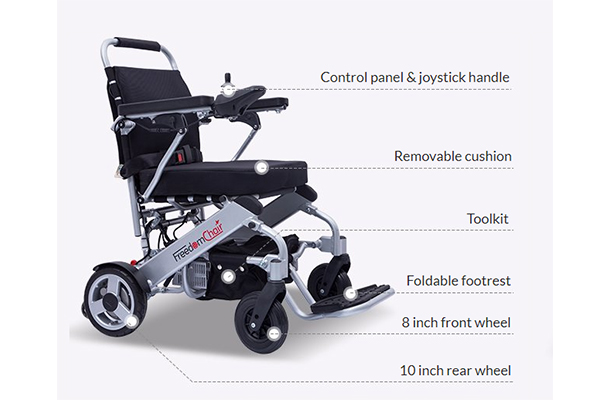 What Do We Need to Know If We Want to Buy a Safe and portable electric wheelchair
To buy a safe and portable electric wheelchair is a tough task. Many diverse types are readily accessible in the markets. It is hard to figure out the best one among them. People do not usually know about the important things that they need to consider while purchasing a wheelchair. For that reason, we are going to explain the things you need to know before you buy the wheelchair.
Use Wheelchair For Outdoor, Indoor Or Both
Before purchasing Lightweight Folding Electric Wheelchair, you need to know that whether you want to use the wheelchair outdoors, indoors or both. You have to decide where you have to drive your wheelchair. If you're going to keep the wheelchair inside of your home, then pick the one with small wheels. The wheelchair with small wheels will be easy to drive in the house.
Nevertheless, you need to go for a wheelchair that has big wheels for outdoor use. The big wheels will smoothly run on the floors and rough surfaces. In case you want a wheelchair for both places then choose the one that has medium size wheels. This type of wheelchair will drive smoothly in both indoor and outdoor spaces.
Consider Speed Of Wheelchair
Electronic Powered Wheelchairs are available in a big range. Each wheelchair has a particular speed. The speed is something which you have to consider before making a purchase. The wheelchair speed ranges from 3 to 9 miles per hour. However, the speed entirely depends on the size of the motor. When you know what speed you want, then you can make a good choice.
Lightweight & Foldable Capacity
Diverse electric wheelchairs are lightweight and have a foldable capacity. The manufacturers use high-quality material in these wheelchairs to make them stand out. However, you have to pick the Lightweight Folding Electric Wheelchair that you can easily fold and unfold several times without any problem. Also, make sure that the material of the wheelchair does not get affected while folding and unfolding. If it does, then you have made the wrong choice.
Comfortable Seating Style
The seating style of all Electronic Powered Wheelchairs is different from one another. Still, the typical electric wheelchair has a standard high back captain seat. These seats are created with padded vinyl material, which makes them comfortable for the majority of people. In case you are concerned about the sores forming, then you should choose the wheelchair with the solid seating pans with gel.
Weight Capacity
Weight capacity is also an imperative thing to consider while buying a safe and portable electric wheelchair. The typical weight capacity ranges from 250lbs to 750lbs. Whether you are slim or fat, you have to choose heavyweight models as they will be durable and long-lasting.