How to Buy Lightweight Electric Wheelchair from China?
Views:292 Author:Site Editor Publish Time: 2019-07-23 Origin:Site
A lightweight electric wheelchair is essential for the ones who are paralyzed. It is better than the typical wheelchair because of its cool features. It is more comfortable and easy to use.
At present, these wheelchairs are becoming so popular. With the increase in demand, various companies from different countries are manufacturing and offering these wheelchairs across the globe. However, the country which is providing the best electric wheelchairs that are lightweight is China.
Features of Electric Wheelchair From China
Today, China is recognized as the best electric wheelchair manufacturer. It is making use of the latest technological innovation and high-quality material to manufacturer these wheelchairs. For that reason, they are lightweight, portable, and foldable. The other amazing features of these wheelchairs are the following:
• Brushless Motor
China manufacturers make such wheelchairs that contain brushless motors. These motors have got UL testing, 3C, and warranty.
• Aluminum Alloy
The aluminum alloy is mostly utilized in the aircraft and other various constructions. They are strong and corrosion-resistant. For that reason, the manufacturers have used aluminum alloy in the wheelchairs. This material will not break and will make the wheelchairs durable.
• Easy To Take Along
The lightweight electric wheelchair is easy folding and easy go. It means that you can easily fold it within seconds. After folding it, you can effortlessly take it along. This wheelchair is convenient for traveling. Many Chinese manufacturers are equipping it with diverse lithium batteries so that it can move at distant places.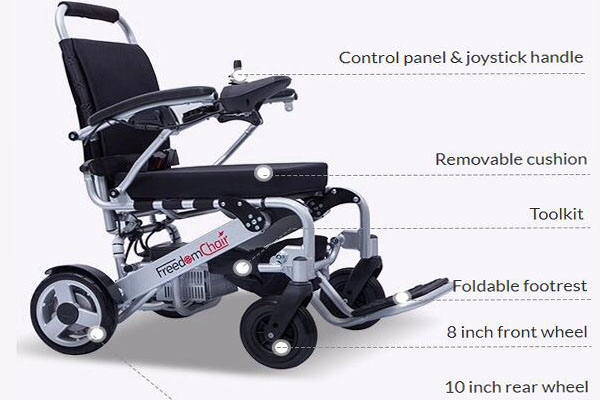 How to buy a lightweight electric wheelchair from China?
If you are interested in buying an electric wheelchair from China, then there is no problem! Many Chinese companies are offering this wheelchair online and offline. If you are living in China, then you can visit various shops to get one of your choices. There are diverse shops present in different cities in China that provide electric wheelchair in unique designs and styles.
But the question here arises, why you have to rush over into the stores when you can buy these wheelchairs from the comfort of your home?
In case, you are inclined towards online purchase then check out the famous online Chinese companies like FreedomChair. This company is keeping the electric wheelchair price reasonable for the convenience of the people. It will never beat on the quality and choice. It has to offer such electric wheelchairs that are not just lightweight but appealing as well. Not the price of the wheelchair, its shipping rates will also be reasonable.
Final Words
Either you want an electric lightweight wheelchair for yourself or your loved one, you have to be careful. It should have extraordinary features to satisfy your needs and wants. When it comes to buying these wheelchairs from China, then it is a better option to go with the online stores. You can compare the prices, features, and quality of the wheelchairs by just sitting at home. Along these lines, you can save a big amount of money and get your hands on the high-tech trendy lightweight electric wheelchair.