Freedomchair Attended Rehacare 2018 in Germany from 26th to 29th September 2018
Views:329 Author:Site Editor Publish Time: 2018-10-17 Origin:Site
On the 26th September, Freedomchair, as an exhibitor, participated in Rehacare 2018 in Düsseldorf, Germany. Several models of major power wheelchairs we launched in this exposition were A09, A08, and A08L, which attracted many potential visitors. In addition, we introduced the scope of our businesses, core technology, being developed projuects, and so on. A number of visitors sat in our electric wheelchairs and experienced the various functions, and they were satisfied with our designs. The atmosphere of talks was so harmonious that many visitors have left an forceful impression on our company and our products.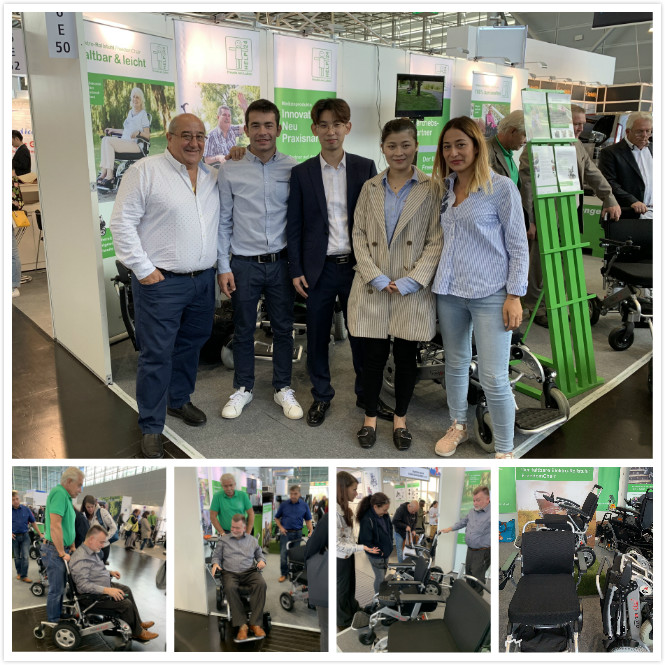 Innovations focusing on rehabilitation and care ensured that the halls were full to bursting at REHACARE 2018 in Düsseldorf, which came to a close on Saturday 29 September after four successful days. 50,600 service users, their carers and relatives as well as international industry experts gained new information on aids that help people with disabilities, care needs and who are elderly, live a life that is as independent as possible from a record-breaking 967 exhibitors from 42 countries. The trade fair thus obtained top results in terms of visitor numbers too. The exhibitors from home and abroad showed a full quiver of innovations and advanced developments at REHACARE 2018. Many of these were highly personalised solutions from start-ups, with the impetus behind many of the concepts being to make life easier for their own carers.
Freedomchair specializes in manufacturing electric wheelchairs. If you are interested, contact us freely. We are responsible for making your life easier!