Electric Wheelchair That Can Be Taken to the Airport
Views:8 Author:freedom Publish Time: 2020-01-03 Origin:Site
"The world is so big; I want to see it!" This wish that exists in the heart of everyone is actually very simple for ordinary people: one ticket, one bag, then we can go to see different scenery or experience a different life; but for people with mobility problems or old and frail people, this may be a luxurious hope. Inconvenience restricts too many of their ideas; inconvenience restricts too much of their travel planning.
Providing effective assistive tools to help people realize their beautiful wishes of travel is our goal. Our goal is very simple and great. We just want to do one thing: make the inconvenience no longer be obstacle! Don't let them be restricted to the world in front of the disabled people! Freedomchair fold up electric wheelchair will help people fulfill their expectations.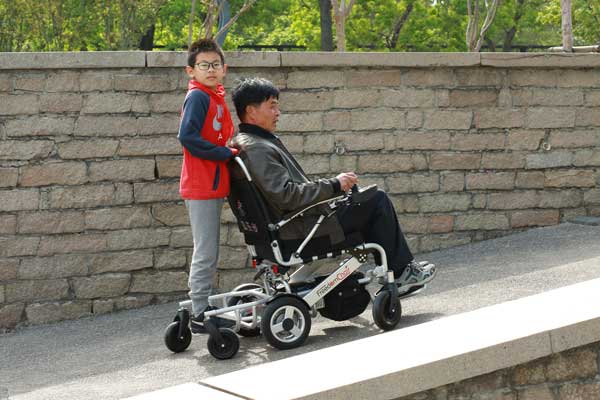 Freedomchair A series electric wheelchairs are lightweight electric folding wheelchair with lithium battery safe, which are comfortable, and labor-saving. They are the preferred auxiliary equipment for travel. Wheelchairs that can be boarded on airplanes are standard equipment for traveling.
Several advantages of electric wheelchairs:
1.Motor driven, saving manpower, convenient for the elderly and infirm people;
2.Electromagnetic brake system, stop immediately without letting go, steep slope does not slip;
3. They can get on the plane even if bringing a lithium battery;
4. Innovative folding method, occupying small space;
5. lightweight and portable design, net weight 19.8KG.
During the journey, there will be full of all kinds of beauty. Do not hesitate to buy an electric wheelchair that can be boarded on an airplane, take it to travel with you and experience the beauty of the world!
Freedomchair electric wheelchair with lithium battery can be boarded on the plane, can be folded with one click, can be easily placed in the trunk. It's a portable lightweight wheelchair with good quality, beautiful appearance and comfortable using experience, which is the boutique in the wheelchair and make your life better!