Good News from Our Austrian FreedomChair Dealer
Views:693 Author:Site Editor Publish Time: 2017-12-15 Origin:Site
Hello,guys!How times flies! FreedomChair,as a famous electric wheelchair manufacturer,we have developed a lot of wheelchair agencies in the whole world.Today we are going to share with you a piece of good news coming from our Austrian agency.
Our Austrian agency had taken part in the "Fuer immer jung",the meaning of which is "forever young".Actually,the name of this exhibition is also identical with the exhibition value:gathering all smart products for disabled people and old people,always make them feel young.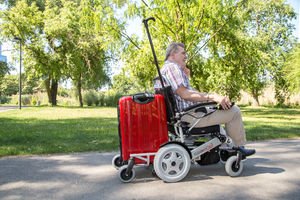 The fair " Fuer immer jung " in Graz is a public fair.Our powered wheelchairs have the opoortunity to be shown.Many consumers and many interested groups were able to carry out test drives in the exhibition hall. Some have already been sold through our Styrian dealers. There were also new dealers interested in the FreedomChair. A new dealer has sold since the fair already 2 pieces. There were also representatives of the local press at our booth. And they even write a long press release to comment our battery operated wheelchair for disabled.If you know German,please click the link https://www.pressetext.com/news/20171211007 to see what the press really said.

Okay,so much for today's story.If you also want to be one of our wheelchair dealer,no matter where you are,please contact us to know the cooperation details.