Freedomchair will participate in 2018 CMEF at 11-14 Apr
Views:31 Author:Site Editor Publish Time: 2018-03-22 Origin:Site
Name: China International Medical Equipment Fair
Booth:7.1Y05
Date: 11-14 Apr, 2018
Address: National Exhibition and Convention,Shanghai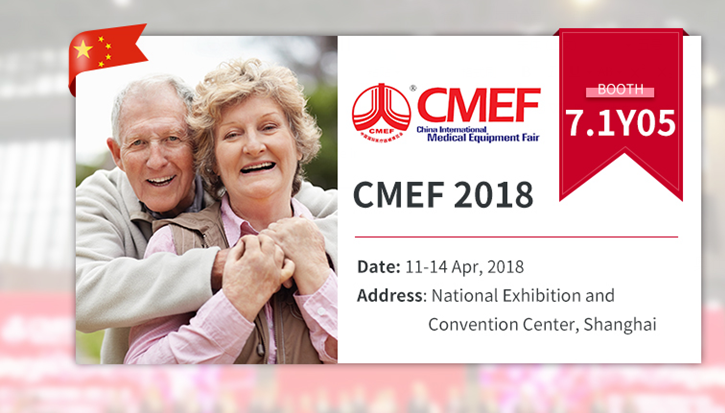 As is known to all, FreedomChair has participated in many exhibitions since its establishment. This time, we will participate in CMEF. China international medical equipment fair (CMEF), was founded in 1979,It runs twice a year, in spring and fall, after 39 years of continuous innovation, self-improvement, and has become the asia-pacific region's largest medical equipment and related products, services, exhibitions. Comprehensive exhibition covers include medical imaging, in vitro diagnostic, electronic, optical, emergency treatment, rehabilitation care, mobile medical treatment, medical service, the construction of hospital, medical information technology, wearable, such as tens of thousands of kinds of products, direct and comprehensive service in medical equipment industry from the source to the end the whole medical industry chain. CMEF has become the largest professional medical procurement trading platform in the medical industry, the best enterprise image distribution and professional information center and academic and technical exchange platform.
This time, we will bring the four most popular models of electric powered wheelchair to customers around the world.
Freedomchair A06 This model of electric wheelchair is classic and can run for a long time without maintenance.
Freedomchair A07 This is the most popular type of freedomchair designed according to ergonomic standards. It's a quite good choice for those who lateral movements to and from the chair and works equally well indoors and out.
Freedomchair A08 This freedomchair is the lightest and most adjustable one, showing a positive lifestyle for users. Choose Freedomchair A08, choose a healthy and active lifestyle!
Freedomchair A08L This is a larger version of the other freedomchair, and the biggest feature is that it is more suitable for larger users than other wheelchairs. Meanwhile it is equipped with more powerful rear wheels and motors to make it easier and quicker to move.
We welcome new and old customers to visit our factory and exhibitions, and experience the powerful function of our electric powered wheelchairs.