FREEDOMCHAIR Distributor Attended the Integra Fair in Austria
Views:716 Author:FreedomChair Publish Time: 2018-05-08 Origin:Site
FREEDOMCHAIR is a high-tech enterprise that combines wheelchairs and scooters' R&D, manufacturing, marketing and service. As an international developing company, we have agencies all over the world. And today we'd like to introduce you about Integra Fair that one of our distributors attended in Austria.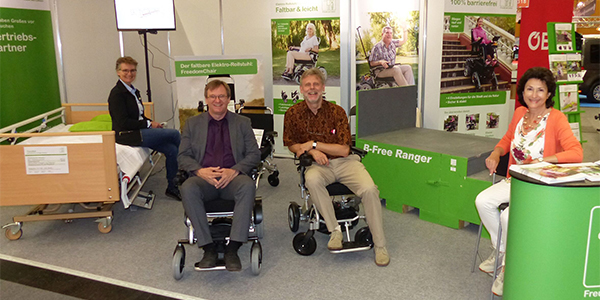 The ongoing demographic development constantly changes the needs in the field of nursing care. Politics, nursing care institutions, rehab centers and ambulatory care services keep facing new challenges and obstacles, for instance tighter financial budgets. The Integra fair, held April 25th-27th 2018 in Wels, tackles these issues and provides new impulse for a better quality of life for those who are affected, for their relatives and for professionals who work in social and health care.
There are a wide variety of types of wheelchair, differing by propulsion method, mechanisms of control, and technology used. Some wheelchairs are designed for general everyday use, others for single activities, or to address specific access needs. Innovation within the wheelchair industry is relatively common, but many innovations ultimately fall by the wayside, either from over-specialization, or from failing to come to market at an accessible price-point. The iBot is perhaps the best known example of this in recent years.
All electric wheelchair produced by FREEDOMCHAIR can be easily folded, powerful brush-less motors used in this fast powered wheelchair can run continuously for long periods and require no maintenance. Welcome to contact us or visit our wheelchair factory!