Buyer from Shanghai visit the factory and send us the calligraphy as a present
Views:353 Author:FreedomChair Publish Time: 2018-03-20 Origin:Site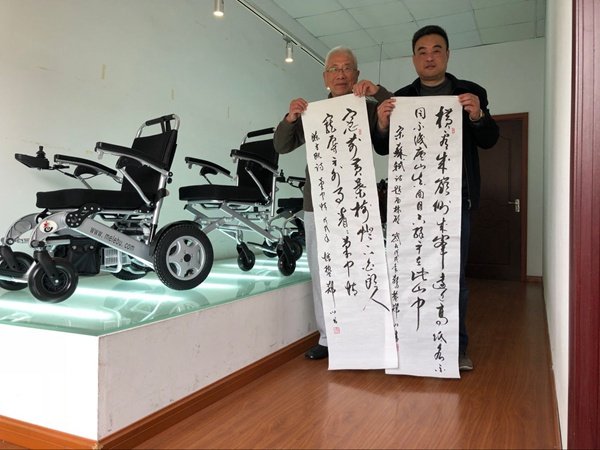 On March 14, 2018, an old gentleman came to visit our factory and delivered the calligraphy he wrote himself. This is a buyer from Shanghai who bought our Freedom wheelchair in July last year. High quality products and services, strong company qualification and reputation, is an important reason to attract this visit.
On behalf of the company, Mr. Hong extended a warm welcome to the old gentleman and arranged a detailed reception. Accompanied by the old gentleman on the scene of the instrument equipment visit and use, the wheelchair's good performance to impress the customer. The company's leaders and relevant staff have made detailed solutions to all kinds of questions raised by the customers, and have made a deep impression on the clients with their rich professional knowledge and excellent working ability.
Our foldable and lightweight FreedomChair is marketed not only on major E-commerce platforms but also in physical stores, which are located in Beijing, Shanghai, Xi'an, Chongqing, Foshan, Guangzhou, HongKong and so on. As the stability of product performance and quality, Freedom Chair are reputably appraised by customers. With the increase of the company's market share in China, we have started the foreign market, and now we are quite successful. Our foldable and lightweight electric wheelchair is popular in North America, Australia and southeast Asia.
There are several reasons to choose our FreedomChair:
■ The motor
Brushless motor, quality assurance, and has obtained 3C, UL testing and certification.
■ Aluminium alloy material
The aluminum alloy we use is usually used in aircraft and other aerospace structures, with high strength and excellent corrosion resistance.
■ One second opens and folds
The electric wheelchair is a lightweight electric wheelchair that can be folded and opened in a second. It can be very easy to carry in the trunk of a car. It can be equipped with multiple lithium batteries and can run long distances.
Freedom wheelchair, with one second folding and excellent design, extremely facilitate your moving no matter shopping, sightseeing, all for your travel.
Endogenous factors such as population aging and consumption upgrading are the main forces driving the rapid growth of wheelchair industry world wide. The aging process will be in place for a long time, which will boost the demand for wheelchairs, and upgrade the high-end market in wheelchairs.
With the progress and development of The Times, the aging of the population intensifies, and the demand for electric wheelchairis increasing. Seize the opportunity in the business opportunity.
We welcome customers from all over the world to visit our factory. Our professional sales team will introduce the details of our products and factories. Any question please contact us.